Blends vs Homogeneous
Using homogeneous products helps reduce the amount of inputs needed to achieve a desired analysis. Also, Yara's OptimumTurf products can be used as blend bases.
Turf Nutrition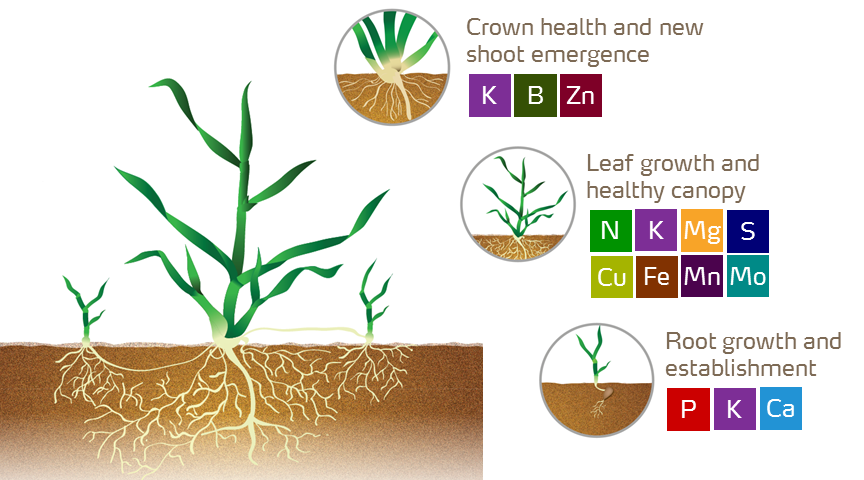 Yara is not only a major fertilizer provider to growers throughout the world, but it also has years of experience and knowledge in crop nutrition.
Yara's OptimumTurf solution combines knowledge, product efficacy, and analytical tools for exceptional turf health and aesthetics. With Yara, growers have access to the most comprehensive portfolio in the market and the latest in precision plant nutrition for minimal waste and maximum environmental sustainability.
Learn more about OptimumTurf Solution by Yara
What customers say about us
Meeting specific fertilizer needs of turfgrass
"Yara makes great products. I have been utilizing them for many years. Yara fertilizers allow turf managers to dial in the specific fertilizer needs of turfgrass. The products are very flexible and can be used in a wide array of situations. Yara fertilizers are the basis of many of my fertility solutions." James Huntoon - Golf Course Superintendent, Heritage Club
Ease of application, great turf response
"The nutrient sources and ease of application that these blends offer make a great impact on turf response compared to other nutrient sources that I have been using for many years." - Roi Levin – Manager Nematologist & Entomologist Environmental Pest & Lawn Services
Products that make a difference
"As an owner of a lawn care company, I am always looking for products that are going to make a difference in my customers' yards. With Yara's products, I see just that and more. They are committed to making high-grade fertilizer. Yara has quality in the products and also in their employees. " – Joshua Vazquez - Owner, Platinum Lawn Solutions
High-quality products, outstanding customer service
"Yara provides high-quality products at affordable prices. The versatility and effectiveness of their products combined with the outstanding customer service provided by their sales agronomists set them aside in my opinion. I am very happy to include several of Yara's products in my Golf Turf Management programs year-round." Chad Libby - Golf Course Superintendent, Water Oak Country Club
Excellent recovery time post aerfication
"I first used TURF ROYALE to aid in recovery post aerification. The material spreaded and watered in easily with very little dust immediately after being applied. We then irrigated the course that evening which dissolved the remainder of the fertilizer. I was very pleased with the response following the application. The turf had great color and the recovery time was excellent." - Jesse Metcalf, Superintendent at Bonita National Golf & Country Club
YaraLiva Reduces Carbon Footprint for Turf
Yara has been actively lowering CO2 emissions in the manufacturing process and educating farmers to improve nutrient use efficiencies with the 4R concept of the right source, right rate, right time and right place.